Claudia Luque studied Business Administration in her native Colombia and she has an MBA in Marketing from the University of Hull in the United Kingdom.
In London, she took practical artwork in ceramics which has been her hobby for the past 14 years and now is dedicated to create and exhibit her ceramic work.
Claudia has lived and travelled in many counties around the world and it is the variety of cultures and art that has inspired her work. She uses a variety of techniques including hand building, throwing and slip casting and also uses different firing techniques being Raku the one she enjoys the most.
Claudia loves open exploration. She is always trying new techniques, glazes and firing methods and she has an open way of thinking which comes from being in contact with multiple cultures both by living in London and also for her extensive travelling.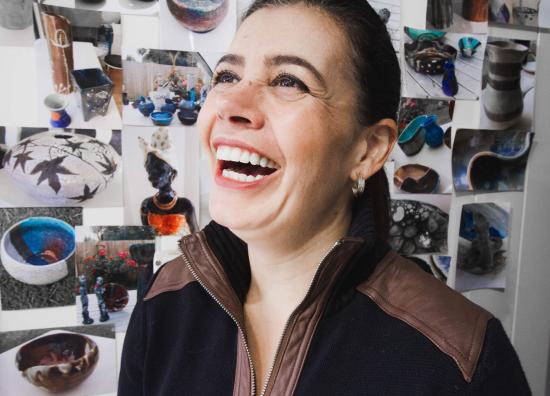 Photo Credit: Asia Mscichowska Photography
Recent Exhibitions
Hampstead Garden Suburb Art Fair November 2022
26 November 2022
EFOA Winter Fair
11 November 2022 - 12 November 2022
London Potters Exhibition at The Department Store, Brixton
3 November 2022 - 6 November 2022
EFOA Connections
27 September 2022 - 9 October 2022
EFOA Open House: June 2022
25 June 2022 - 3 July 2022
SDC Transformation Exhibition at Bankside Gallery
15 June 2022 - 26 June 2022
Christmas Fair at Lambeth Palace
4 December 2021
Handmade Chelsea at Chelsea Town Hall
17 November 2021 - 21 November 2021
Handmade Oxford Online
15 September 2021 - 19 September 2021